CBCS News
The 2015 Outstanding Staff Awards
The 2015 Outstanding Staff Awards
Two CBCS staff received the 2015 USF Outstanding Staff Awards at a ceremony on May 10, 2016 held at the USF School of Music Concert Hall.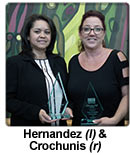 Susan Crochunis is a Senior Academic Program Specialist in the Dean's Office. "Susan is a true team player and is always willing to give an extra hand no matter what is needed, whether it be personally redirecting a lost student to their undergraduate advisor or the other side of the college, or to helping administrative staff navigate issues without notice. Susan is a valued member of the Academic Regulations Committee for the college... Susan always has a smile and positive attitude regardless of the amount of work or deadlines imposed on her. She always puts forth 120% and consistently exceeds all expectations imposed upon her. She is a true asset not only to our college but our institution."

Maricel Hernandez is a Fiscal & Business Specialist in CFS. "Ms. Hernandez always goes above and beyond... Her ability to tease out the details of contracts and figure out time, costs, and anything else that impacts our budget and our ability to do the work is amazing. It's not always possible to be "creative" in this work, but somehow she is and her innovative ideas always help the projects! In her work with partners around the country, they all have commented on her efficiency, her skill and especially her pleasant disposition."