CBCS News
Senior Social Work Student Receives Human Rights Award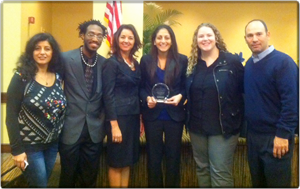 Nella Makdessi holds the Human Rights Youth Leadership Award presented to her by the Tampa/Hillsborough Human Rights Council.
Antonella Makdessi, a senior in the School of Social Work was presented the Human Rights Youth Leadership Award by the Tampa/Hillsborough Human Rights Council. The THHRC is an organization whose objective is to advocate and promote human rights for all residents of Hillsborough County through education, publicity, negotiations and other means. Every year for the past 38 years THHRC recognizes a few Hillsborough County citizens with its Human Rights award. The Human Rights Youth Leadership Award goes to a youth who has demonstrated outstanding effort in furthering the struggle for human rights of disenfranchised people or groups. Ms Makdessi received the award during an awards ceremony held on December 9, 2011 at the Doubletree Hotel on Westshore Blvd. The citation for the award reads:
Antonella Makdessi is a 2004 graduate of Community Tampa Bay's (CTB's) Anytown program and has returned as a counselor to help reach hundreds of teen participants in the program. She serves as co-chair of the Anytown Advisory Board helping to strengthen the program assisting CTB staff. In 2010, Nella served as a member of the Hillsborough Youth Collaborative, working to empower area youth, and regularly serves as a volunteer with Unity Days and Youth Conferences that support emerging leaders through school-based prejudice reduction workshops. Currently a senior at USF, she was an active member of the Gay/Straight Alliance at USF-St. Pete, now participating in the USF-Tampa Bulls Service Break leading students to Washington, DC to work with local LGBTQ groups. Nella is a Big Sister to her Little Brother, Russell, in the Big Brother Big Sisters program, and has worked tirelessly with the 2011 Homeless Count in Hillsborough County, even recruiting her peers for this effort.

Nella, you are much deserving of receiving the 2011 Human Rights Youth Leadership Award.