CBCS News
CBCS Welcomes Visiting Scholars from the European Union
CBCS Welcomes Visiting Scholars from the European Union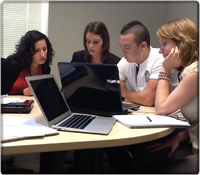 Interim Dean Catherine Batsche and Chairman Tennyson Wright welcomed a transcontinental workgroup held March 22-23, 2012. The group convened at the Department of Rehabilitation and Mental Health Counseling to discuss recommendations for basic competencies and skills for e-Health workers.
The group's leaders were Professor Andrew Sixsmith, Director of the Gerontology Research Program at Simon Frazier University in Vancouver, and Professor Helianthe Kort of the Allied Health Services University in Utrecht, the Netherlands. Both are close colleagues of Associate Professor William Kearns of the Department of Rehabilitation and Mental Health Counseling.
Professor Kort, who was a visiting scholar in the Department of Aging and Mental Health Disparities during 2010, brought five students from Utrecht while Professor Sixsmith brought a postdoctoral fellow, Dr. Ryan Woolrych.
In addition to many esteemed faculty members from CBCS, attendees included Anthony Sterns, PhD from Kent State University in Ohio, James L. Fozard, PhD (USF School of Aging Studies) Meredeth Rowe, RN/PhD (USF College of Nursing), and Mary (Libbey) Bowen, PhD who represented the James A. Haley Veterans Administration Hospital, Health Services Research and Development (HSR&D) and Rehabilitation Research and Development (RR&D) Center of Excellence.
The visitors remarked that they received southern hospitality during their warm welcome to the University of South Florida and look forward to ongoing collaborations.