CBCS News
Three CBCS Staff Members Receive 2011 USF Outstanding Staff Awards
Three CBCS Staff Members Receive 2011 USF Outstanding Staff Awards
Glenda Kilpatrick (CFS), Peggy Ott (CSD) and Cindy Stark (Dean's Office) received USF's highest award for administrative and support staff on Thursday, March 29, 2012 in a ceremony held at the USF School of Music.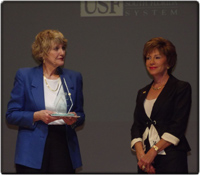 Glenda Kilpatrick
Associate Director, Child & Family Studies
Joined USF in 1991

"Utilizing her extensive HR knowledge, Glenda, along with input from other staff within FMHI, produced an HR Hiring Flow Chart which graphically shows the steps involved in hiring new employees. Her chart includes all pay plans. The tool greatly assists the college's administrative staff in working through the myriad of complex HR procedures and scenarios the arise."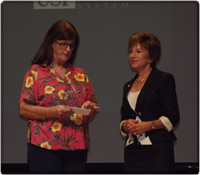 Peggy Ott
Office Manager, Communication Sciences & Disorders
Joined USF in 1982

"Peggy's industriousness, creativity, and 'can do' attitude has allowed us to develop revenue streams that have made CSD able to function viably within a constrained budget period, create an atmosphere of caring, and add helped CSD's professional graduate degree programs receive top rankings in US News & World Report."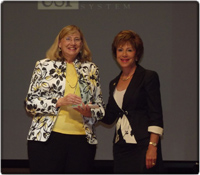 Cindy Stark
Director, Florida Mental Health Institute
Joined USF in 1981

"Cindy developed a Workgroup of Administrative Coordinators (WAC). WAC meets monthly and serves as an ongoing source of professional development and communication across all units of the college. The WAC group, operating with Cindy's leadership, is THE place in our college where efficiencies are created."