CBCS News
Criminology Alumnus Promoted to Assistant Chief
Criminology Alumnus Promoted to Assistant Chief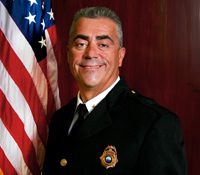 Tampa Police Chief Jane Castor named John Newman as the new Assistant Chief of Investigations and Support in April. The 26-year-police-veteran is utilizing his expertise to help the department in its final preparations for the Republican National Convention. Chief Newman spent the last two years as the Commander of District II where his team exposed citywide tax fraud and launched a local investigation into the national epidemic. He also led a major investigation that helped dismantle the Drak Gang and sent seventeen gang members to jail. During his time in District II, his officers achieved the department's highest arrest rate of felons.

Chief Newman has served in Patrol, QUAD, Narcotics, Criminal Intelligence Bureau, Legal and Internal Affairs. He worked five years as an undercover detective in the Narcotics Unit. For the last 20 years, he has been on the Honor Guard as a Bugler and also served six years on the Tactical Response Team.

Newman is from Brick, NJ. He holds a Bachelor of Arts in Criminal Justice and a Master of American Studies degree from the University of South Florida. He is married to his high school sweetheart, Dawn, and they recently celebrated their 28th wedding anniversary. They have two daughters Ashtin and Rebecca. His wife and daughter Ashtin are also USF graduates. Rebecca will graduate from the family Alma Mater this fall.