CBCS News
Get Ready to be Blown Away: Hurricane REU Students Arrive at USF
Get Ready to be Blown Away!
Hurricane REU Students Arrive at USF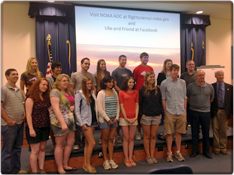 Once again USF will host a group of twelve students to study this summer at the Hurricane Research Experience for Undergraduates (REU). The nine-week program will focus on the social aspects of hurricanes – including how individuals, communities and institutions prepare for, experience and recover from this natural disaster. The Hurricane REU offers students a substantive mentored research experience, along with research methods training, ethics training, and American Red Cross Certification in disaster response and management skills. The program, funded through a grant awarded by the National Science Foundation, selectively recruits undergraduate students from geographic locations across the country with a particular emphasis on areas threatened by hurricanes or other natural disasters.



Principal Investigator and Coordinator of the Hurricane REU, Dr. Robin Ersing, associate professor of social work in the College of Behavioral & Community Sciences, says the centerpiece of the program is an intensive, interdisciplinary research experience where each student will actively engage in a faculty-mentored research project focused on hurricane hazards and social vulnerabilities of individuals and communities. According to Ersing, "Students learn to apply qualitative and quantitative research methods, including the use of GIS mapping technology, to examine the geo-social dynamics of hurricanes and their impact on communities." The program features an interdisciplinary research approach with faculty mentors from anthropology, geography, public health, sociology, social work, and aging studies. In addition students will participate in field visits to the NOAA National Weather Service, MacDill Airforce Base (where they will take a guided tour of the P3 Hurricane Hunter airplane), and a county Emergency Operations Center where they will engage in a disaster table top exercise with local Police, Fire, and Rescue first responder experts. The American Red Cross will train and certify students in disaster response and management skills including mass care and sheltering. Other features of the Hurricane REU include a seminar session on research ethics along with guest faculty lectures from a variety of disciplines focused on research and applications pertaining to hurricane hazards, risk and social vulnerability. As a capstone experience, students will showcase their research projects at a university-community symposium held at the end of the nine-week session, and will be supported in submitting their work to a state, regional or national research conference.

According to Ersing, a central goal of the program is to stimulate interest in the scientific study of the social dynamics of hurricane vulnerability by integrating knowledge, skills, and humanitarian outreach. "Our aim is to prepare a cohort of new researchers well-equipped to understand and confront these challenges." Accordingly, the REU provides guidance on preparation for graduate and professional school to enhance participants' prospects for pursuing advanced study and careers in science, particularly for those participants who do not have comparable opportunities at their home institutions.

The Hurricane Research Symposium will be held July 26th on the USF campus and will be open to those interested in attending. For additional information about the program or the symposium, contact Robin Ersing at rersing@usf.edu or by phone at (813)974-6572.