CBCS News
Faculty Profile: Robin Ersing, PhD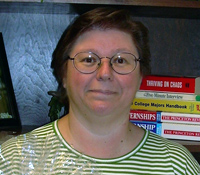 Robin Ersing, PhD is an associate professor within the School of Social Work who studies community-based disaster preparedness to promote resilience in post-storm recovery. She is a trained and active Community Emergency Response Team (CERT) member with Tampa Fire Rescue and an expert on vulnerabilities in under-resourced and lower-income communities. Dr. Ersing is currently exploring the role of volunteer citizen responders to support the relief and recovery efforts of impacted communities. She is also a member of ICAD (International Communities Active in Disasters), examining the impact of disaster preparedness and recovery on limited English proficiency (LEP) populations in urban and rural communities. She is the author of "Surviving Disaster: The Role of Social Networks," a tool for disaster planning and relief efforts. The book covers the basics of disaster response and the role of social networks, providing essential terminology, theories, analysis, and case examples, with descriptions of methods that worked and did not work for a variety of populations facing different types of disasters within and outside the United States.
She was recently awarded funding through the Global Academic Partners Program to partner with colleagues at the University of Ghana on a project that will provide a cross-national evaluation of how differences in culture, economic sufficiency, government services and structures, and social relationships effect disaster preparedness and recovery strategies used by adult women in urban areas. This will help local officials, non-profits, emergency management, and first responder professionals formulate and implement disaster policy in urban areas for adult women who bear the care-giver responsibility for vulnerable population groups including children and seniors.
She is the Principal Investigator and Coordinator of the USF Hurricane REU. This is a nine-week program, funded through a grant awarded by the National Science Foundation, which offers research training and experience to students as well as American Red Cross Certification in disaster response and management skills. She is also the faculty advisor to the USF Red Cross Club, a student run organization that is set up exactly like Tampa's Red Cross chapter and performs in the same capacity as off-campus volunteers.