CBCS News
Project Latino STYLE Hosts School and Health Fair for Latino Adolescents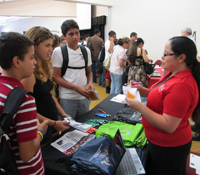 Project Latino STYLE, in conjunction with the Hillsborough County Board of Commissioners and the Mendez Foundation, hosted the "Feria Escolar y de Salud del Adolescente Latino" (School and Health Fair for Latino Adolescents) on Sunday, August 12th from 11am to 3pm at the University Area Community Development Corporation (UACDC). The Mendez Foundation provided a $3,750 donation to the USF Foundation, directed to Project Latino STYLE, for school supplies to be purchased and distributed to Latino families. The event attracted about 350 people, including families, vendors, staff, and volunteers, and almost 200 school supply-filled backpacks were distributed to children and teens.
Participants providing information and support included: Centro Mèdico Las Americas, CINS-FINS, Family Justice Center, Florida Institute for Community Studies (FICS), H. Lee Moffitt Cancer Center, Mary Kay, Metro Wellness, Mothers Against Drunk Driving (MADD), Reach Up, The Centre, and UACDC Prodigy. In addition, DJ Soltrix from 92.5 La Maxima donated his services.
Attendees walked around to obtain information on health from the various tables and the event culminated with a presentation on "Teen Substance Abuse Prevention Strategies" by Dr. Celia Lescano, Principal Investigator of Project Latino STYLE and Research Associate Professor at USF. During the event, several families signed up to be a part of Project Latino STYLE, which is an NIMH-funded research study that evaluates the effectiveness of a health promotion program for Latino families. Parents participate in interactive workshops in Spanish and teens in English, where they communicate on topics such as: important decisions that will help the teen stay safe and healthy, things that parents and teens can do together to support teens as they move toward independence, and how to support teens to avoid alcohol, drugs, violence, pregnancy, and diseases.
For more information about Latino STYLE, please call (813) 220-0822 or visit us on our website at http://latinostyle.fmhi.usf.edu/ or on Facebook at www.facebook.com/projectlatinostyle.