CBCS News
Faculty Profile: Wesley G. Jennings, PhD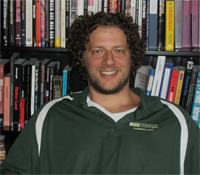 Assistant Professor Wesley G. Jennings, PhD is conducting longitudinal research to examine the developmental process of violent crime. This research enables policymakers and practitioners to understand how to target high-risk behaviors that can reduce long-term criminality.
With an emphasis on multi-disciplinary collaboration (which is increasingly required by funders), Dr. Jennings has seen a shift in how criminologists traditionally examined violence as an outcome (i.e., dependent) variable toward a predictor (i.e., independent) variable. As a result, violence is increasingly seen as having multiple etiologies that include personal and social determinants.
Since violence is common across disciplines and follows a trajectory from early conduct disorders to an initial criminal offense to chronic, repetitive episodes, researchers within epidemiology, psychology, sociology, public health, and other fields are coalescing to intervene and follow-up with individuals who have the highest risks and are in need of protective factors. For example, a youth who has a conduct disorder that is identified early and lives in a high crime neighborhood can be paired with a mentor or role model before engaging in a cycle of adult crime.
In addition to an integrated approach to the life course of violence, Dr. Jennings has seen a shift in how offending and victimization is overlapping rather than treated as distinctive entities. Benefitting from rigorous studies that demonstrate multiple similarities between victimization and criminal behaviors, service providers are better able to prevent and treat individuals who have dual-diagnoses (e.g., victim and offender). "Addressing victimization and chronic offenses that are experienced by the 5% of offenders who are responsible for more than half of all crime and costs incurred as a result," Dr. Jennings said, "is simply the best bang for the buck."