CBCS News
Social Work Faculty Conduct International Research and Interventions in Haiti
Guitele Rahill, PhD, and Manisha Joshi, PhD, recently traveled to Port-au-Prince Haiti to collect preliminary data for an R21 they are preparing for submission to NIMH.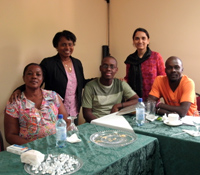 In this picture, Dr. Rahill and Dr. Joshi are expressing their thanks to three members of FOSREF (Fondation Pour La Santé Reproductrice et L'éducation)(Foundation for Reproductive Health and Education) who participated in focus groups addressing the development of culturally relevant and context-specific HIV prevention for female victims of sexual violence in post-earthquake Haiti. FOSREF, along with KOFAVIV (Komisyon Fanm Viktim pou Viktim) (Commission of Women Victims for Victims) and GHESKIO (Haitian Group for the Study of Kaposis Sarcoma and AIDS) are among the foremost providers of HIV prevention and mental health services to victims of sexual violence in Haiti.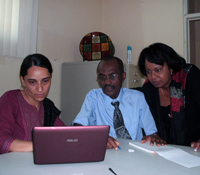 Here, Dr. Joshi examines barriers to effective use of Skype technology for Dr. Jovin, Dean of the Ethnology Department of UEH, the State University of Haiti, as Dr. Rahill looks on. Dr. Joshi's intervention was final confirmation of the capacity of UEH to successfully partner with a multi-disciplinary team of faculty from the College of Behavioral and Community Sciences (Dr. Celia Lescano of Mental Health Law and Policy, Dr. Rahill of Social Work, and Dr. Wilson Palacios of Criminology ); faculty from College of Arts and Sciences (Dr. Nancy Romero-Dazas of Department of Anthropology); and faculty from College of Public Health (Dr. Julie Baldwin from Department of Community and Family Health). The aforementioned team, in collaboration with faculty scholars at UEH, recently submitted an R24 to NICHD entitled SHARE Haiti (Syndemics Training for HIV/AIDS Research and Education in Haiti).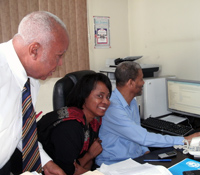 In this photograph, Dr. Rahill smiles as Dr. Fritz Deshommes, Vice Rector for Research at UEH, and Professor Calixte clerisme of the Center for Research and Development in Haiti demonstrate grasp of the NIH Grant review process and criteria for scoring proposals.
True to the values of social work, Dr. Rahill delivered a projector, and a Nook, donated by the children of Haiti Project at Arkansas State University (ASU), which Dr. Patricia Guy-Walls of ASU and Dr. Rahill started at ASU in 2008. The recipients of the electronic equipment were John Welsey Placide and Paul Phycien of OREZON Cite Soleil.