CBCS News
College of Behavioral & Community Sciences Employee Recognition Award Winners Announced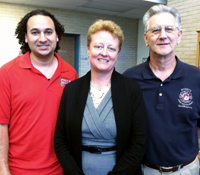 The two recipients of the CBCS Employee Recognition Award were announced at the Spring Assembly held on April 19, 2013. Manuel Mayor (MHLP) was nominated for recognition by Ercilia Lescano. Manny works as a Research Support Specialist and was cited for his work in building research participant trust and retention in the Latino STYLE research project. It's not uncommon for him to recruit subjects on weekend evenings at teen clubs and other venues where they meet. The families he works with have frequently praised his ability to put them at ease.
Bill Herstek (CFS) was nominated by Lynn Clingan. She wrote about Bill's dedication to the department and the competency which he uses in meeting logistical challenges within the department and college. Bill has been with CFS for over 20 years and is a 'wizard' at coordinating complex moves while keeping facilities and space in a pristine state of appearance. Bill also ensures payroll certifications are complete and maintains numerous departmental email listings.
On behalf of the College, we congratulate these two employees for exemplifying the best qualities of dedication and excellence in our staff.