CBCS News
Inaugural Moms Project Scholarship Recipients
The College of Behavioral and Community Sciences is pleased to announce the first three recipients of the Moms Project Scholarship Awards for 2013:
Amanda Armstrong – mentored by Scott Young and Blake Barrett
Melissa Barongi – mentored by Kathleen Moore and Blake Barrett
Victoria Marino – School of Aging Studies.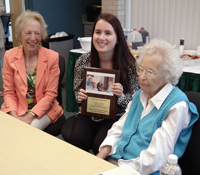 Amanda Armstrong, who is receiving the scholarship in the name of Alice Armstrong (of no relation), is a junior who is majoring in psychology and criminology with a minor in behavioral healthcare. She plans to research the relationship between participation in residential treatment programs and behavioral health.
Amanda cites her own mother as a huge inspiration in her education. "My mother made learning fun and I thank her for my inquisitive mind."
"This award is a great honor for me personally because I myself have known a multitude of close friends and family members who have suffered from substance abuse problems," says Amanda. "To be able to further research in this field is a blessing and I hope to make Alice Armstrong proud."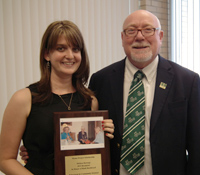 Melissa Barongi is receiving the scholarship created in the name of Ruth Boothroyd, Dr. Roger Boothroyd's mother, which is designed to support a student researching nutrition and wellness. She is a behavioral healthcare major and psychology minor who intends to research mothers who have had their children removed from the home due to drug use, and how this and self-efficacy training affects their personal life and recovery.
"I can't even put into words how much of an inspiration my own mother is to me," says Melissa. "I truly couldn't ask for anyone better to call my mom and dad. I'm so honored to be a recipient of this award because there are so many moms out there that gave up their educational goals to raise their beautiful families as my own mother did. I'm so excited to be working with Mrs. Ruth Boothroyd, she had such a passion for nutrition and wellness, and I will be including her in all of my research plans."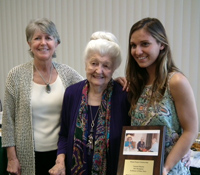 Victoria Marino, a Gerontology major, will be a sophomore next year as she determines the specific area of her positive aging research. She is the recipient of the Ellen Nizzi scholarship and will be conducting research into positive ageing and the interpersonal relationship between caregivers and care recipients.
Victoria calls her mother her "biggest supporter and most honest critic," and cites both her parents as inspirations for her educational goal.
"My mom was the only one in her family to earn a degree, and was so determined to do so that she worked full time to put herself through college," Victoria says. "I admire her greatly for this accomplishment as well as her success in running her own business after earning her degree."
"Meeting Mrs. Nizzi and hearing first hand her genuine love of learning was truly inspirational, and a reminder of my purpose here at USF and of the path I will chose for myself in the years ahead," says Victoria.
"I hope that this award will grant me the opportunity to accomplish something that will honor the stories of both Mrs. Nizzi and my own mother, two incredible women who achieved their goals through hard work and determination."
Congratulations Amanda, Melissa, and Victoria, and good luck with your research!