CBCS News
College of Behavioral and Community Sciences Research Supports President and Drug Czar's New Policies on Mental Health and Substance Abuse
Recent events such as the tragedy in New Town, Connecticut, have lead President Obama and the United States government to seek more effective interventions and methods of treatment for those suffering from mental health problems. President Obama has approved programs to increase the availability of professionals trained in mental and behavioral healthcare, and programs to help identify mental health issues early to prevent the escalation of these problems and the likelihood of future tragedies.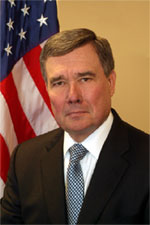 R. Gil Kerlikowske, the director of the National Drug Control Policy (often known as the Drug Czar) and an alumnus of the criminology program in the College of Behavioral and Community Sciences at the University of South Florida, is looking towards the massive changes in healthcare that will make millions of Americans eligible for substance abuse treatment via insurance in less than a year. Kerlikowske's experience in law enforcement and drug policy brings a fresh perspective into the office focused on practical techniques to help individuals.
Kerlikowske believes that early treatment is the key to creating more efficiency in substance abuse treatment. His policies aim to help break cycles of drug use and crime, and reflect much of the current research into treatments and interventions being conducted around the nation and right here in the College of Behavioral and Community Sciences.
"Treatment shouldn't be a privilege limited to those who can afford it," Kerlikowske told the Associated Press, "but its a service available to all who need it."
Kerlikowske's policies focus on reforms in the criminal justice system, including drug courts and jail diversion programs to reduce and limit incarceration rates. As an advocate for community-based programs, Kerlikowske intends to focus law enforcement efforts on more serious offenses while implementing intervention and recovery mechanisms to address those with mental health and substance abuse problems.
The Florida Mental Health Institute (FMHI), the Department of Children and Family Studies (CFS), and Department of Mental Health Law and Policy (MHLP) within the College of Behavioral and Community Sciences contribute to research supporting intervention and recovery efforts being implemented across the country.
The Florida Mental Health Institute
FMHI will celebrate its 40th anniversary in 2014 as it looks towards extending its already-impressive legacy of research and aid. Funding in excess of $78 million in federal and private grants have been awarded to the institute's Florida partners due to collaborative projects with the organization, helping to create positive change in Florida communities. Though we know the annual funding of the institute at USF averages between $20 and $30 million annually, the economic impact of FMHI's presence and research is just beginning to be established.
The institute helps the state of Florida obtain funding for behavioral health services research, training, policy analysis, and more, to help create an increasingly effective and efficient healthcare system. Among these projects are a $9 million grant from the Substance Abuse and Mental Health Services Administration (SAMHSA) awarded to the Northeast Florida Children's Mental Health Coalition to transform their "Kids 'N Care" program to better meet the needs of children and adolescents with serious emotional problems and provide support to their families. SAMHSA also provided a $14 million grant to the Florida Department of Children and Families (DCF) to fund the Florida BRITE (Brief Intervention and Treatment for Elders) Project based on a pilot program developed, implemented, and evaluated by the institute.
The institute and CBCS also work with public entities, such as the Florida Department of Education, Florida Association of Counties, Partners in Crisis, and the Florida Council for Community Mental Health to help improve the overall mental health of communities in the state.
"Our best strengths are the impacts we've had on the larger community," says FMHI Interim Director Dr. Larry Schonfeld. "We've had projects across the age spectrum - children, adults, and elders - that we've been able to replicate what we've done here at other locations around the state. We assess and evaluate the programs, and then disseminate information to improve the practices."
Efforts in the Judicial System
FMHI and MHLP often focus on supporting multiple efforts in the judicial system involving mental health and substance abuse problems, including jail diversion, intervention methods, treatment and recovery support, and support for re-entry into society. These efforts are funded through state legislative initiatives and grants designed to create research and knowledge for best practices and implementation within the judicial system.
Dr. Roger Peters of the College of Behavioral and Community Sciences tells that drug and mental health courts are a new development across the country. "These are new, specialized courts designed to provide specialized support to those with mental health and substance abuse problems. Staff members are cross-trained and have experience in mental health and substance abuse, and judges and community officers have more focus on involving people in treatment and providing support."
"The expectations in these courts are different," Peters says, "since abstinence takes longer to establish. There's no cookie cutter approach to these things, which is why the presence of these courts has been expanding nationwide."
College of Behavioral and Community Sciences faculty have worked with SAMHSA grant-funded programs in the Tampa Bay community to improve outcomes for those with substance abuse problems in the criminal justice system.
While offender outcomes are an important part of these systems and research, the institute and MHLP focus on process outcomes as well. This determines how to best implement evidence-based practices in various judicial settings. This includes organizational change interventions, where gaps in disseminating and implementing information and practices are identified and remedied. These process enhancement initiatives help to create more efficient and effective processes for those with substance abuse and mental health problems in the criminal justice system.
These efforts are aided by the Criminal Justice Mental Health and Substance Abuse Technical Assistance Center (CJMHSA) housed in the institute, which provides support to Florida counties through technical assistance in preparing grant applications, projecting the impact of awards, and monitoring the effect of grant-funded initiatives on the countrywide criminal justice system.
Working with Veterans
The College of Behavioral and Community Sciences works with the National Center on Homelessness Among Veterans at the University of South Florida to help develop, promote, and enhance policies, clinical care research, and education to improve the quality and efficiency of homeless service for veterans. MHLP has collaborated with the Veterans Administration (VA) and academic partners since the center's establishment in 2009 to help develop best-care models, measure the fidelity of these models, and evaluate changes.
Many veterans who become homeless have mental health or substance abuse problems. MHLP faculty members, including Dr. Colleen Clark, focus on developing best practices for treating these veterans.
"We've looked into creating low-demand housing programs for veterans with substance abuse problems to build stability for care and recovery," says Clark, noting that many programs have higher requirements for recovery before housing options become available.
"Our goal is to end homelessness among veterans. They've served us – it's important to serve them," says Clark. "It's rewarding to help the VA develop and implement these practices that have a real impact on our veterans."
Continuing Research and Change
As our nation's government officials like Kerlikowske turn their attention towards treatment and recovery options for those with mental health and substance abuse, the College of Behavioral and Community Sciences will renew and continue its efforts to improve the quality of life and care of those suffering within our nation's healthcare and judicial systems. The research and implementation efforts of our faculty help our state and community partners to better understand and treat mental health and substance abuse problems and create more efficient and effective intervention and treatment methods.
The University of South Florida is a high-impact, global research university dedicated to student success. USF ranks 50th in the nation for federal expenditures in research and total expenditures in research among all U.S. universities, public or private, according to the National Science Foundation. Serving more than 47,000 students, the USF System has an annual budget of $1.5 billion and an annual economic impact of $3.7 billion. USF is a member of the Big East Athletic Conference.