Undergraduate Research Program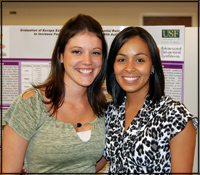 The College of Behavioral & Community Sciences offers a systematic array of opportunities for undergraduate students to participate in research. The Undergraduate Research Program provides students with a planned sequence of courses to support their development as undergraduate researchers and prepares them for graduate school. The program's goal is to immerse students in the culture of research and engage them in the process of becoming a scientist. CBCS students may obtain an Undergraduate Research Certificate by completing a specialized program of study culminating in an independent research project. Students may also apply for Research Assistant positions to obtain faculty mentorship in the research process. Students who would like to pilot test their own research ideas may apply for research support through a CBCS mini-grant program. Finally, students may join an undergraduate research interest group to participate in a variety of research opportunities and to develop interdisciplinary collaborations.
Research Intensive Student Experience (RISE)
RISE is an undergraduate research certificate designed for students who are enrolled in a CBCS major or minor. The certificate is intended: (1) to provide students who plan to apply to graduate school with a credential signifying their completion of a systematic undergraduate research preparation program, (2) to encourage students to pursue research mentorships that will lead to the completion of an independent research project by the time they graduate, and (3) to guide students toward the goal of disseminating the results of their research at a national conference or in a peer-reviewed publication.
Continuous Undergraduate Research Experience (CURE)
The CURE initiative provides students with opportunities to gain experience as an undergraduate research assistant in each of four years. Priority is given to students enrolled in the RISE undergraduate research certificate. As participants gain more research experience, they may be promoted from Research Assistant I to Research Assistant II, and III, until they reach the highest level, Undergraduate Research Scholar, in their senior year. The goal of CURE is to immerse students in the culture of research and actively engage them in the process of becoming a scientist. Students can apply for mini-grants to pilot test their own research projects conducted in partnership with faculty mentors and advanced graduate students.
Undergraduate Research Interest Group (URIG)
The Undergraduate Research Interest Group provides CBCS students opportunities to meet to discuss their research ideas and to form cross-disciplinary collaborations. Open to all students in the College, URIG members are invited to the CBCS Distinguished Researcher Lecture Series and have the opportunity to meet with these speakers to discuss their research interests. In addition, URIG members participate in field experiences to learn about the importance of research from a community perspective. In the past, field experiences for undergraduate researchers included Pinellas Hope (a tent city project for individuals who are homeless), the medical examiner's office, family and adult drug courts, and DUI checkpoint observations. These experiences allow students to interact with stakeholders, such as judges, and families affected by crime and violence. The field experiences provide helpful insights to inform student research topics.