MHLP Faculty Receive Research Awards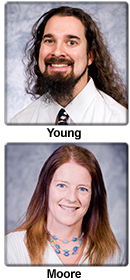 Scott Young, PhD (PI), and Kathleen Moore, PhD (Co-PI), will serve as the research partners for a three-year grant awarded by the Bureau of Justice Assistance (BJA) to the Florida Department of Corrections (FDC). The overall grant is $750,000 ($250,000/year), with USF receiving $120,000 ($40,000/year). Grant funds will be used to develop and implement collaborative efforts between FDC, Florida Sixth Judicial Circuit Courts, Pinellas County Sherriff's Office, State Attorney's Office, and Public Defender's Office to deploy an Alternative Sanctions Program (ASP) that utilizes evidence-based practices focused on employment placement, substance abuse treatment, and skills training for offenders on probation. Goals are to reduce victimization and recidivism, and ultimately to strengthen our communities.

In addition, Dr. Young was awarded a contract from the VA to develop, implement, and monitor low demand program design models in selected Homeless Providers' Grant and Per Diem (GPD) sites. The contract is for one year with a one year option, totaling $112,826 ($56,413/year). Low demand models do not require sobriety or compliance with mental health treatment as a condition of admission or continued stay. Under a low demand program scope, demand are kept to a minimum; environment of care is as non-intrusive as possible to foster trust between staff and residents; rules focus on staff and resident safety; and treatment services are offered and encouraged, but not required. Implementing a low demand design will help participating programs to revise their program models to accommodate chronically homeless Veterans and those who have not been successful in traditional housing programs.