CBCS Faculty Receive NIA R01 Grant Subcontract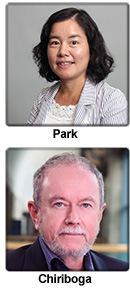 Nan Sook Park, PhD (School of Social Work) and David Chiriboga, PhD (Department of Child and Family Studies) received a subcontract for a National Institute on Aging R01 grant. The five-year-grant entitled "Limited English Proficiency, Health, and Healthcare among Older Immigrant" will address critical issues of older immigrant populations focusing on Korean Americans in three states with varying Korean population densities (Florida, Texas, and New York). Drs. Park and Chiriboga will collaborate with colleagues at University of Texas at Austin (Dr. Yuri Jang, overall grant PI, and her research team) and at Hunter College of The City University of New York (Dr. Kunsook Bernstein and her research team).

Limited English proficiency (LEP) is a unique vulnerability of older immigrants that poses a significant risk to their health and healthcare. Given that social and environmental contexts play a critical role in the lives of persons with LEP, this project will investigate how social connectedness and neighborhood/community characteristics (e.g., ethnic density, health service environments in the neighborhood) influence the link between LEP and health/healthcare. The project employs an innovative and synergistic mix of Social Network Analysis (SNA) and Geographic Information Systems (GIS).