2016 Recognition Awards Program Recipients
2016 Recognition Awards Program Recipients
The CBCS Administrative and Staff Recognition Award Program (RAP) is designed to recognize individuals for extraordinary achievements in the workplace. The two staff employees who were recognized for their outstanding performance and contributions to the college at the Faculty Assembly on April 8, 2016 were: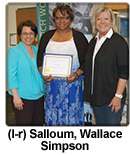 Yvonne Wallace, Social Work - Yvonne Wallace was nominated for recognition by her supervisor, Teri Simpson. Yvonne is an Academic Program Specialist and has been with the school of Social Work since 2007. She is known for being a team player in every sense of the word. She has served on the Special Events Committee and is enthusiastic, professional, and committed to the success of the school and college. Ms. Wallace recently organized events for the School's student employees during the National Student Employee Appreciation Week. She engaged the personnel of the department and the students in activities each day during this week, and her efforts are a model for other departments to follow. No task is to great or too small for Yvonne to tackle. She consistently goes above and beyond in her work. She is someone the students and faculty depend on and she always goes the extra mile in everything she does!



Kathy Wasson, Communication Sciences & Disorders - Kathy Wasson was nominated by Maria Brea. She is an Academic Program Specialist in the department of Communication Sciences & Disorders. Kathy has been employed with the department for over 10 years. She plays a myriad of fundamental roles in the Speech-Language Pathology program and is instrumental in tracking graduate students' progress through the requirements of each program, ensuring that all graduate students meet the academic and clinical requirements for graduation, coordinating the admissions process for the SLP graduate programs, and consulting with undergraduates regarding the application to the graduate programs. She manages a very heavy workload with grace and competence. Some areas would probably need more than one individual to handle such a large number of student matters, but Kathy is someone who is organized and able to coordinate a high number of issues and actions successfully. She is also known for her kindness, patience, and respect for others in all situations.