Assistant Professor and PhD Student Win Awards at Dysphagia Research Society Meeting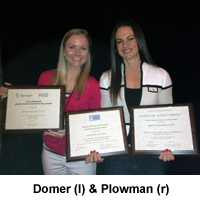 Emily Plowman, PhD, CCC-SLP was awarded the Board Recognized Swallowing-Specialist Award at the Dysphagia Research Society Annual Meeting in Seattle this month. This prestigious award and a $500 check are presented annually to an international researcher undertaking pivotal research in swallowing and swallowing disorders. In addition, Dr. Plowman was awarded second place for her scientific platform presentation titled "The Effect of Exercise on Bulbar Function in Individuals with Amyotrophic Lateral Sclerosis."

At this meeting, Amanda Domer, a doctoral student in the Plowman Lab, was awarded the 2013 Springer Publishing/Dysphagia Research Society Junior Investigator Scholarship. Ms. Domer received a plaque and yearly scholarship at the meeting.

Congratulations to both Dr. Plowman, and Amanda Domer on their recent awards.