Summer Research Institute Gives Undergraduate Students Edge on Research and Admissions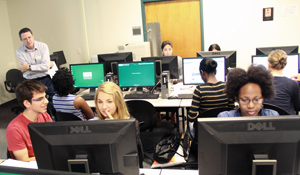 The Department of Mental Health Law & Policy (MHLP) in the Louis de la Parte Florida Mental Health Institute (FMHI) at USF is currently hosting the annual Summer Research Institute (SRI) for undergraduate students from around the nation. SRI is a 10-week summer program that runs from the end of May through August 7th, taking twelve of the best and brightest from around the nation to hone their research skills within the context of mental health to help them prepare for senior theses, graduate school, and beyond.
SRI offers students an opportunity to participate in an independent research project guided by a distinguished faculty member, often from the Department of Mental Health Law and Policy (MHLP) and FMHI. These mentors help students through an intensive research project that provides experience with research ethics, IPB practices, and community engagement with mental health services in an area related to their research project. Students are required to write a research report describing their project and present the report at an upcoming Undergraduate Research Conference or Symposium.
Sofia Laguna, a psychology major and sociology minor from California State University in Fullerton was able to visit the Pinellas County Courthouse during her work with Dr. Kathy Moore, Dr. Scott Young, and Blake Barrett, M.S.P.H., on her research project on adult drug courts.
"They're really pleasant professors to work with," says Laguna. "Everyone has been so helpful."
Khalid Kermit El-Amin of Barry University in Miami came to SRI to further his study as a psychology major looking at industrial organization.
"The research aspect is great," says El-Amin, whose research focuses on counselors in organizational settings dealing with burnout and retention issues. "This is a great opportunity to utilize FMHI. For me, it was a perfect fit."
El-Amin has also seized this chance to experience the graduate school lifestyle before beginning the application process in his upcoming senior year. "It allows us to learn to structure our time and efforts to get our work and research done," says El-Amin.
Dr. Paul Stiles of FMHI cites SRI as a premier opportunity for students to create research for presentation or publication, and develop real-world skills to help in graduate school and academic careers.
"Today we worked on SPSS," Stiles says while students collaborate in one of the College of Behavioral and Community Sciences' computer labs. "They will be learning about funding and the application process for graduate school while they're here."
"This program is designed to give them a leg up on applying for graduate school," says Stiles. "They're all stellar students, and we hope to see some of them applying here at USF."
Dr. Roger Boothroyd, chair of MHLP and a mentor in SRI, says that he's excited to see these students engage in a broad spectrum of interests and explore their strengths. "The field needs the next generation of investigators," Boothroyd says.
El-Amin says that he will be applying to graduate programs in the College of Behavioral and Community Sciences in the fall after attending SRI, stating that "it's been a great experience."
In the second half of the summer, SRI will expand to include a shorter session for high school students looking for research experience before applying to colleges.